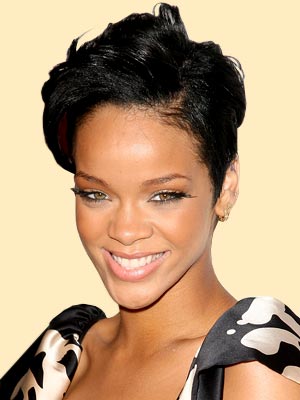 Rihanna being broke is the latest rumor in circulation on several international entertainment gossip websites and blogs. It said that her record label Def Jam. did not properly fund the R&B superstar Rihanna. However, the question is - can Rihanna be broke after her recent album Good Girl Gone Bad sold around 5 million copies worldwide?
According to information on nationnews.com a family member told the SATURDAY SUN these types of rumours come with the territory.
"We never addressed rumours in the past and we are not going to start now," said the member of Rihanna's family.
This is how the rumor got started
Stories have been appearing on several international websites and blogs that the Barbadian-born superstar only has US$20 000 left in the bank.
The information was brought to the public by a Patricia Williams, who claimed to be Rihanna's business manager who was fired by the Grammy-winning songbird.
The blogs read that Williams was fired after Rihanna discovered there was only US$20 000 in her bank account. The story was first published on Page Six, an on-line edition of the New York Post, from which Williams said she was fired "for no good reason, all in ignorance" and is "livid" with Rihanna and her management company Rebel One's decision to fire her.
"I'm a professional business manager, I have a staff of more than a dozen, I have worked for many high-profile actors, musicians, and multi-million dollar corporations. Why would I steal from Rihanna?
"I showed her all the paperwork and tried to explain to her the circumstances, but she wouldn't listen. She called me all sorts of horrible names and stormed off.
"I now feel compelled to share with the world the background story as I will not allow my name to be slandered".
The Barbados-born singer has had four back-to-back albums, including a re-release, since her debut, Pon De Replay, in 2005. According to Willliams, Marc Jordan, manager and owner of Rebel One Management, has been taking care of Rihanna's financial situation with her.
"Def Jam doesn't fund Rihanna properly, so Marc uses the money Rihanna makes from third-party endorsements and from tours to fund her album and music videos," she said.
"Since 2005, Rihanna has been sponsored by the likes of JC Penny, Samsung, CoverGirl, Secret, Venus Breeze [and so on], and has gone on two major tours, most recently . . . Kanye West's Glow in the Dark tour."
Williams said close to $750 000 was spent on the most recent video and single Disturbia, and that Rihanna made "a little bit above a million" and "all of it was spent on making her as big as she is now".
Source: Out A Road